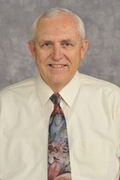 Biography
 I have retired from FIU. While in the Department of Politics and International Relations I taught courses on international law, development of international relations thought, introduction to international relations, the international relations of the Middle East, the international law of the sea, and international relations of drug trafficking in the summer.
I also published a book on Kurdish culture and contributed to the Kurds for Blackwell's (Oxford) "Companion Series" called "Companion to Religion and Social Justice." I also did research for a textbook on the "International Relations of the Middle East."
In November 2008, I completed my service as President of the Kurdish Studies Association. I also served as the General Editor of Studies in International Relations, a Routledge Series. I continue to speak on the Middle East in panels in South Florida and to community groups. I review books on the Middle East and manuscripts on the Middle East.
Two of my former students (Sam Baroni and Ash Sogal) received civilian positions this past year with the U.S. Army and are working out of Fort Bragg, NC. I have been invited to lecture on Iraq in January 2009 at Florida Atlantic University.
Areas of Expertise
Kurdish Studies, Middle East Studies, International Law
Degrees
BA, Florida State University, International Affairs, 1969
MA, University of Virginia, Foreign Affairs, 1971
PhD, University of Virginia, Foreign Affairs, 1976