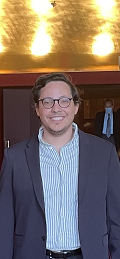 Francisco Jimenez Fernandez
Graduate Student
Politics and International Relations
---
Office: MMC, SIPA 213
Phone: 305-348-2226
Email: fjime036@fiu.edu
Research Interest
Francisco Jimenez is pursuing acombined degree Ph.D. in Political science and a Master's in Latin American and Caribbean Studies at the Steven J. Green School of International and Public Affairs. He was born in Venezuela and obtained a Law degree at the Universidad Central de Venezuela (UCV). Francisco is a firm believer in the power of ideas to generate social change. Thus, he aspires to develop an academic career that allows him to improve anti-corruption policies in Latin America and elsewhere.
Francisco possesses over four years of political and legal analysis experience, with a background in the diplomatic arena. Although he is particularly drawn to Venezuela and Brazil, Francisco feels connected to the Latin American region and is devoted to working towards the progress of democracies in the region. Francisco has a Master's in International Affairs with a concentration in Western Hemisphere Affairs from Baruch College, where he was a research assistant for two years working in criminal governance in Colombia. Native in Spanish and fluent in Portuguese.
Areas of Interest: Anti-corruption policies, democratization, public policy innovation.