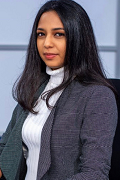 Melissa Boissiere
Graduate Student
Politics and International Relations
---
Office: MMC, SIPA 213
Phone: 305-348-2226
Email: mbois004@fiu.edu
Biography
Melissa Boissiere is a PhD Candidate at Florida International University where she studies International Relations, with a focus on International Political Economy. Her doctoral dissertation investigates Caribbean development in the context of the international economic and trading system.
Her research interests include small states development, in particular the impact of the international economic, financial and trading system on same, as well as regionalism, gender studies, feminism, and human rights, particularly with regard to the Caribbean Community (CARICOM) sub-region.
Melissa obtained an MA in Latin American and Caribbean Studies from Florida International University in 2018, and holds an MA in Spanish (2013) and a BA in Spanish and Latin American Studies (2005), both from the University of the West Indies in Trinidad and Tobago. She is also a former International Relations Officer and Diplomat with 10 years of diverse experience at the Ministry of Foreign Affairs of the Republic of Trinidad and Tobago.