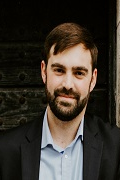 Adam Ratzlaff
Graduate Student
Politics and International Relations
---
Office: MMC, SIPA 213
Phone: 305-348-2226
Email: aratz001@fiu.edu
Biography
Adam Ratzlaff is a PhD candidate in International Relations at Florida International University, a Special Series Editor for Diplomatic Courier, and a consultant. Prior to coming to FIU, Ratzlaff conducted political and economic analysis for organizations including the World Bank, the Inter-American Development Bank, and Southern Pulse Correspondents.
His research interests include U.S.-Latin American foreign policy, Sino-Latin American foreign policy, Pan-American cooperation, the defense of democracy in the Americas, fiscal policy, and economic and social development in Latin America. He has published extensively on these topics in popular venues including Global Americans, The National Interest, and Charged Affairs among others. Ratzlaff's dissertation examines how the Organization of American States (OAS) responds to and shapes the evolving threats to democracy in the Americas.
He holds a MA from the Josef Korbel School of International Studies (University of Denver) as well as a BA from Tulane University where he triple-majored in International Relations, Economics, and Latin American Studies.