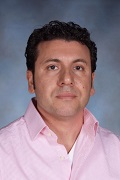 Luca Zini, Ph.D.
Adjunct Professor
Politics and International Relations
---
Office: MMC, SIPA 213
Phone: 305-348-2226
Email: lzini@fiu.edu
Biography
Dr. Luca Zini was born in Milano, Italy, and raised in Switzerland. As a young adult he moved to Sweden where he lived for about fourteen years where he received his combined Degree of Master of Social Science from the University of Stockholm, Sweden - Honor Graduate with Distinction with a major in Political Science and a double minor in International Relations and Law/ECLaw. Dr. Zini's research interests lie at the intersection between identity studies and international relations. He addresses the topics of identity politics and the dynamics that transform contentious politics into militancy, radicalization, and political violence within a broader discourse of state theory. He elaborates on the effects of state narratives and power discourses on identity formation and transformation to better understand the role of the state in the manipulation of identity. He also looks at national and transnational narratives and discourses that instrumentalize identity beyond cultural, economic, racial, ethnic, and national boundaries; exploring the phenomenological conditions that "funnel" the individual through the radicalization process and the effects on the international system. Since 2011, Dr. Zini has worked as an Adjunct Professor of Political Science at Florida International University. In addition, Dr. Zini also works as an instructor of Political Science at Miami Dade College and as an instructor of Social Sciences at Miami-Dade County Public Schools.
Areas of Expertise
International Relations, Comparative Politics, Race and Ethnicity, Territoriality and Space, and the Rights of Indigenous People