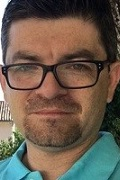 Alexander D. Barder
Associate Professor and Graduate Program Director for International Relations
Politics and International Relations
---
Office: MMC, SIPA 406
Phone: 305-348-7925
Email: abarder@fiu.edu
Biography
I am political scientist specializing in international relations theory and international historical sociology. My main research focuses on historical and contemporary forms of international hierarchy, imperialism and race. I am particularly interested in how histories of race and racism have constituted modern international political and violence.
In my first book, Empire Within: International Hierarchy and its Imperial Laboratories of Governance (Routledge, 2015) I explore the various ways in which imperial spaces proved to be significant laboratories of political, social and economic innovations that affected the development of the modern Western state and society. My book shows how certain assemblages such as the concentration camp, surveillance technologies and neoliberalism emerged out of imperial/hegemonic crucibles.
I have recently published my second book, Global Race War: International Political and Racial Hierarchy (Oxford University Press, 2021). The book examines the historical connections between race and violence from the early 19th to the early 21st centuries. My aim is to first show how racial hierarchy and difference were crucial for the development of the very idea of global order. Second, I examine how racial violence was deployed within this global order when the global racial hierarchy appeared to be in crisis. Third, this global racial order did not end with the Second World War and with the discrediting of scientific racism, the decolonization of the global South and the expansion of the state-system; rather it continued in different forms as the racialization of cultural or civilizational attributes that then resulted in further racial violence.
I am currently working on two book projects. First, I am developing a global history of fascism from the late 19th century to the present. Essentially, my interest is to understand the relationship between the global crises and the development of fascist ideologies culminating in Nazi totalitarianism. Likewise, I am interested in exploring how fascist ideologies themselves create global imaginaries that are not fully accounted for in contemporary ontologies of international relations theories. My second book project is an historical revisionism of Wilsonian liberalism as an American foreign policy. At the heart of Wilsonianism was a political project to make the Western – White World Order – safe from an assortment of global racial threats. In other words, at the heart of Wilsonian ideology is a racial ontology that underpins ideas about self-determination, liberal-democracy, and the nascent global role of American power.
I currently teach courses in International Relations Theory, Development of International Thought and American Foreign Policy. I also teach graduate seminars in International Relations Theory and Contemporary Political Theory. Prior to joining the faculty at Florida International University, I was an Assistant Professor at the American University of Beirut.
Areas of Expertise
International Relations Theory, International Historical Sociology, Postcolonial Theory
Degrees
BA, Florida International University, Mathematics 2003
MA, Florida International University, International Studies 2005
PhD, Johns Hopkins University, Political Science 2012